---
BBC Radio Kent interview Thurs28th Dec 8.25am
Posted: 26 Dec 2017 09:03 AM PST
Do tune in to listen to this if you can (will post after the event). Caroline Levy-Cooper of Cowden tower talks about Harold Ladd who was a ringer who died in action Dec 30th 1917.  His brother Ernie left a great legacy, teaching Stan and Ann Jenner, who have gone on to teach many others.  Who knows what Harold might also have achieved?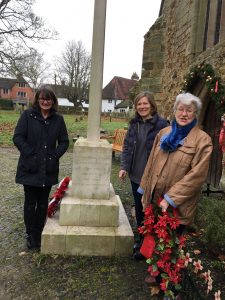 After ISIS Defeat, Christians in Iraq Proudly <b>Celebrate</b> Christmas
Posted: 26 Dec 2017 02:41 AM PST
"Yesterday, a group of Mosul youths have cleaned a church here so Christians can celebrate, attend the mass and ring the bells", said Saad Ahmed, a 32-year-old Muslim resident of East Mosul. It's Christmas Eve in the United Kingdom as thousands of Londoners hit the shops. Thousands of Christians ...
Christmas <b>celebrated</b> in Khagaul, Danapur
Posted: 25 Dec 2017 11:18 PM PST
Similarly, the 121-year-old Anglican Church at Khagaul celebrated the Christmas with religious fervour. The sacred altar of Mother Mary at the 164 years' old St Stephen Church was decorated with flowers and lights. The chiming of bells atop the tower house also attracted the attention of the residents on ...
Best buys for a bride-to-be as recommended by former Bachelor star Anna Heinrich
Posted: 25 Dec 2017 07:11 PM PST
At the bell ringing launch of the David Jones Boxing Day Clearance, the former lawyer will be glammed up by 5am and ready to shop for her upcoming wedding with long-term partner, Tim Robards. Crowds of customers lined up from early morning to be first through the doors for the clearance items.
Posted: 25 Dec 2017 04:00 PM PST
Tenor note and ring key not F (nominal: E+38c)
Odisha celebrates Christmas with gaiety and fervour
Posted: 25 Dec 2017 03:15 PM PST
In Goa, which has around 27 per cent Christian population, the peal of the midnight bells in churches and the carols in praise of Lord Jesus ushered in the Christmas festivities. Pastor Keith Castleberry of Victory United Pentecostal Church in College Station said he doesn't want anyone to attend his ...
Christmas celebrated with traditional fervour in Delhi
Posted: 25 Dec 2017 03:03 PM PST
Bishop Father Felix Toppo at the prayer service in midnight led the child Jesus and placed him on the crib inside the church. A representative each from Muslim, Hindu, Sikh and Christian communities came together in October to ring the bell at the 121-year-old Catholic Church in the heart of Srinagar, ...
In Canaan, NY, a community rallies after Congregational <b>Church</b> fire
Posted: 25 Dec 2017 02:52 PM PST
The blaze started in a foyer ceiling light fixture, it appears, before taking hold of the attic space and bell tower above. .... best course of action, either restoring the church to its former state or demolishing it and building anew, just as early settlers did when the original church on the site burned down nearly ...
Joy, merry-making mark Xmas <b>celebration</b>
Posted: 25 Dec 2017 10:00 AM PST
Christmas carols added to the festivity with individual artistes and gospel bands enthralling crowds with popular numbers like 'Jingle bells', 'O come ... The main celebration of the city's Catholic community was held on the premises of St Joseph's Cathedral, also known as Don Bosco Church, Panbazar.
Behind the attack on Prince Tadros <b>Church</b>: The sound of a <b>bell</b> or the absence of law?
Posted: 25 Dec 2017 08:07 AM PST
The attackers viewed the place as a project to build a church and a project that had to be stopped. However, the Atfieh diocese said in a statement on Friday that prayers have been held here since 2001, and that after a long-awaited law concerning the building and restoration of churches was issued in ...
Special prayers, hymns and carols ushered in Christmas across Hyderabad
Posted: 25 Dec 2017 07:33 AM PST
A joyous chorus of church bells, carols and prayers accompanied by peals of Midnight Masses and greetings of "Merry Christmas" echoed across the city at the stroke of midnight as Hyderabad ushered in Christmas celebrations with trademark pomp and gaiety on Sunday. The spirit of Christmas lit up ...
India gets into celebratory mood with Christmas festivities
Posted: 25 Dec 2017 06:38 AM PST
Christmas trees, bells, gifts and cakes were flooded in the markets where several people wearing Santa Claus' signature cap could be seen ... In Goa, which has around 27 per cent Christian population, the peal of the midnight bells in churches and the carols in praise of Lord Jesus ushered in the ...
Explore Srikakulam: A getway from the urban life of Visakhapatnam
Posted: 25 Dec 2017 04:05 AM PST
A handicraft town in Srikakulam, Budhiti is famous for brass and bell-metal handicrafts. This alloy craftsmanship bears a signature style and is highly prized by art collectors. Budhiti is registered as a geographical indication handicraft from Andhra Pradesh. A visit to this area warrants an addition to your ...
Posted: 25 Dec 2017 01:33 AM PST
Armenian X'mas is now a nostalgic memory but when the church bells peal for midnight Mass at Christmas in the Cathedral near Akbar's church, the Armenian spirit is revived as the local Padritolians pull the ropes of the five huge bells imported from Belgium by the Italian Capuchin fathers. This tradition ...
Posted: 25 Dec 2017 01:03 AM PST
Ah, Christmas, the time of festive good cheer, cherubic carol-singers standing in the crunchy snow, church bells ringing out across the frozen landscape, Santa Claus in his red suit flying down the chimney with a sack of presents, the scent of Christmas meals cooking heavy upon the air, and a Canadian ...
Goans usher in Christmas with midnight mass, carols
Posted: 24 Dec 2017 10:45 PM PST
Panaji, Dec 25 (PTI) The peal of the midnight bells in churches and the carols in praise of Lord Jesus ushered in the Christmas festivities in Goa. ... A larger-than-life crib installed in front of Mary Immaculate Conception Church in Panaji was a major attraction with thousands of tourists visiting the place ...
Posted: 24 Dec 2017 09:15 PM PST
Funeral homes often submit obituaries as a service to the families they are assisting. ... 205 or emailing obituary@roanoke.com or inmemory@roanoke.com ... A few quiet moments, beautiful memories, a golden sunset beyond the horizon, a nearby church bell ringing our favorite Christmas carol: Silent ...
Christians must be "messengers of hope", called to share joy, Pope says
Posted: 24 Dec 2017 03:37 PM PST
VATICAN – Christmas calls believers to see God's presence where he is often perceived as absent, especially in the "unwelcomed visitor, often unrecognizable, who walks through our cities and our neighborhoods, who travels on our buses and knocks on our doors," Pope Francis said.
You are subscribed to email updates from Ringing news.
To stop receiving these emails, you may unsubscribe now.
Email delivery powered by Google
Google, 1600 Amphitheatre Parkway, Mountain View, CA 94043, United States