---
Posted: 30 Dec 2017 10:06 AM PST
Congratulations to the three ringers who received awards in the 2018 New Year's Honours List: Alan Regin MBE For services to Campanology and its Heritage, Thomas Frederic Metcalfe MBE For services to Bell Ringing in Cumbria and Bryan Birkett BEM For services to Bell Ringing and the community in Nottinghamshire.
https://www.gov.uk/government/publications/new-years-honours-list-2018
Sunday Times tomorrow!!Should be great feature tomorrow in Sunday Times including interview with Joshua Hutchinson! Get your copy/check online!!
Posted: 30 Dec 2017 08:59 AM PST
Should be great feature tomorrow in Sunday Times including interview with Joshua Hutchinson! Get your copy/check online!!
New Year's Honours pride for Barrow duo after tireless autism and mountain rescue efforts
Posted: 30 Dec 2017 01:56 AM PST
A MOTHER who works tirelessly to raise awareness of autism and a dedicated mountain rescuer have spoken of their pride at being named on the New Year's honours list. Barrow's Deborah Louise Brownson and Philip Peter Buxton have been rewarded for their incredible efforts, with the pair in line to ...
Alan Regin awarded MBE + two other bell ringers receive awards
Posted: 30 Dec 2017 01:02 AM PST
https://www.thetimes.co.uk/article/new-year-honours-bellringers-earn-gongs-for-bongs-8wt97l22b
New Year Honours 2018: Border region recipients
Posted: 30 Dec 2017 12:26 AM PST
Mr Charles Richard Butler, of Ulverston, for services to music education. Mr Philip Peter Buxton of Barrow, for services to mountain rescue. Mr Malcolm Grindrod of Consiton, for services to mountain rescue. Mr Thomas Frederic Metcalfe, of Kirkby in Furness, for services to bell ringing. Mr Adrian Treharne ...
Posted: 29 Dec 2017 07:33 PM PST
A family heard their front door bell ring on Christmas Eve. At the door ... A somewhat bizarre but no less pleasant surprise was that of a man who met his estranged brother of 34 years in a church. He had ... And for a reason only God can explain, they ended up in the same church, for the same service.
<b>Bell ringers</b> are ringing in the changes
Posted: 29 Dec 2017 04:00 PM PST
An SACR spokesperson said: "There are ten bells with the heaviest bell - the Tenor - weighing 32 cwt - hundred weight - dating from 1901. Loading article content. "Rather than tunes, we ring changes and methods in a style called 'full-circle' ringing. "There are 20 towers with ringing bells in Scotland ...
<b>Bell</b> ringers are <b>ringing</b> in the changes
Posted: 29 Dec 2017 04:00 PM PST
An SACR spokesperson said: "There are ten bells with the heaviest bell - the Tenor - weighing 32 cwt - hundred weight - dating from 1901. "Rather than tunes, we ... "There are 20 towers with ringing bells in Scotland and we form the SACR. ... "We ring for services and civic occasions but mostly for fun.".
Lord Lieutenant of Cumbria announces New Year Honours
Posted: 29 Dec 2017 04:00 PM PST
Today, 30 December 2017, HM Lord Lieutenant of Cumbria, Mrs Claire Hensman, has announced several Cumbrians who will be receiving a UK Honour in 2018, and is also encouraging local residents to consider nominating more people from across the county. The Honours system recognises people ...
Detroit leaders want to <b>ring</b> in 2018 with <b>bells</b>, not bangs
Posted: 29 Dec 2017 03:26 PM PST
DETROIT (WJBK) - For the 20th year in a row, Detroit leaders are calling on gun owners to keep their weapon holstered on New Year's Eve. Many of those pops one hears in Detroit that evening too often aren't coming from champagne bottles. If you think it doesn't matter where your bullet lands, pastors ...
Nottinghamshire New Year's Honours 2018: The list in full
Posted: 29 Dec 2017 01:33 PM PST
Gillian Lane Lately Vice-Chair of Governors, Central College Nottingham and Governor, Acorn Primary Federation. For services to Education (Burton Joyce). Medallist of the Order of the British Empire Medal (BEM);. Bryan Birkett For services to bell ringing and the community in Nottinghamshire (Retford) ...
Posted: 29 Dec 2017 01:00 PM PST
The North Bennington Congregational Church welcomes everyone to its 11 a.m. worship service on New Year's Eve led by Rev. Penny Rich Smith. This is an informal service of shared Christmas reflections and poems and the ringing of bells with our songs for the new year.No Sunday School classes ...
<b>Church Bells</b> and Darjeeling Tea
Posted: 29 Dec 2017 10:11 AM PST
Several times a day, the church bells in the convent would ring, summoning boarders to church for Mass or to Benediction on Sunday afternoons. The nuns would attend ... Being in Loreto Darjeeling and in Calcutta during the Partition of 1947 let her witness major events of Indian history. In 1952 she ...
Posted: 29 Dec 2017 06:48 AM PST
The evening culminates with the Wild Blueberry Ball Drop from the bell tower of First Parish Unitarian Universalist Church at midnight. ... and First Parish Unitarian Universalist Church, New Year's Eve Kennebunk is a family-friendly event that brings the community together to celebrate the New Year.
Let the bells <b>ring</b> out for New Year at Waltham on the Wolds
Posted: 29 Dec 2017 03:26 AM PST
Muffled bells will be used at St Mary Magdalene Church from about 11.20pm until 11.55pm on New Year's Eve. ... Waltham bell ringer Barry Gilchrist said: "This is a village tradition that goes back centuries, attracting many to the green including those who are celebrating the New Year in the village pub.
Let the <b>bells ring out</b> for New Year at Waltham on the Wolds
Posted: 29 Dec 2017 03:26 AM PST
A centuries-old tradition will be held at Waltham church to ring in the New Year. Muffled bells will be used at St Mary Magdalene Church from about 11.20pm until 11.55pm on New Year's Eve. The muffles will then be removed for the tenor bell to strike 12. Following this, the bells will be rung to welcome ...
Posted: 24 Dec 2017 04:00 PM PST
"temporarily suspended" >> "not permitted"
Ringing Remembers – Project Update
Posted: 22 Dec 2017 11:55 AM PST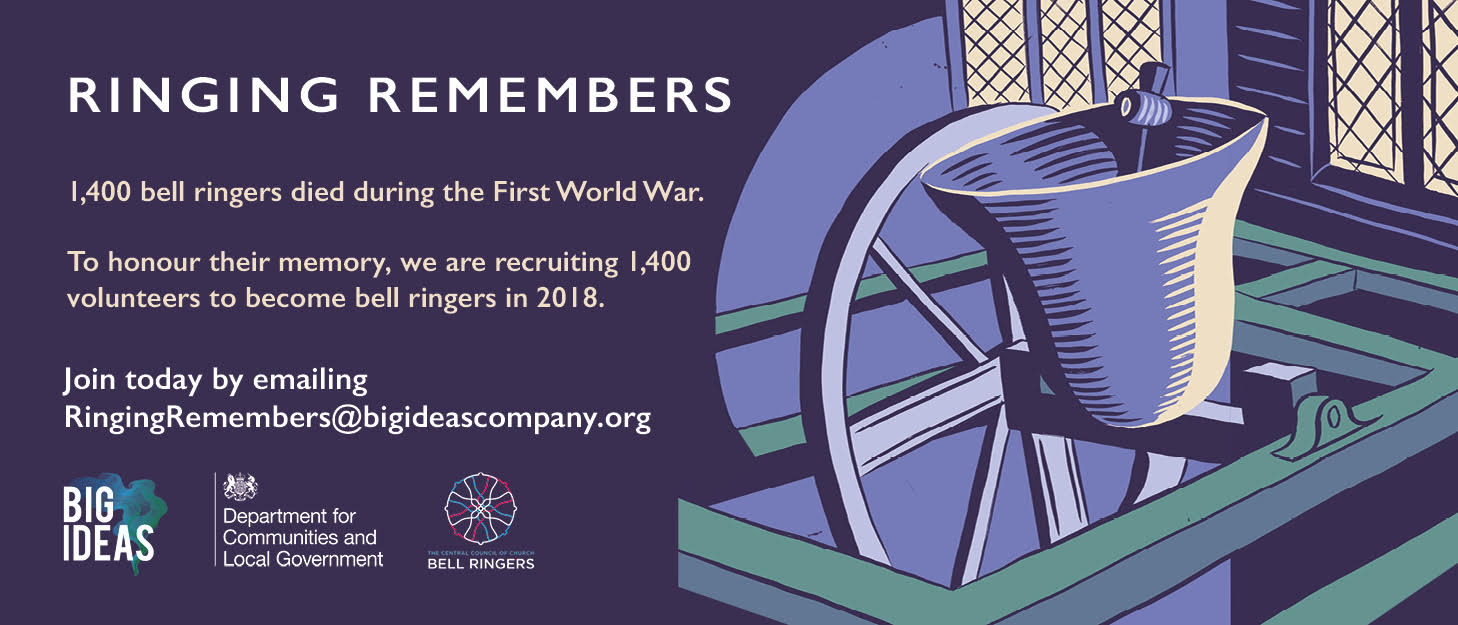 Ringing Remembers – project update
(Christopher O'Mahony writes)
Last month Caroline Stockmann, our Public Relations Officer, wrote regarding broad plans for commemorating the 100th anniversary of the end of the Great War (RW p 1103). That article coincided with a media notice from the Department of Communities and Local Government (DCLG) announcing plans for national bellringing on November 11 2018, along with support for a parallel bellringing recruitment campaign.
www.gov.uk/government/news/nations-bells-to-ring-out-together-to-mark-armistice-centenary
The Context
More than 1,400 of our bellringing community laid down their lives for peace in the "war to end all wars". Our fallen ringers came from all walks of life, as we ringers still do today. For 2018, government wishes to engage with us in an official capacity to symbolically replace those ringers who gave their lives 100 years ago.
Why is this appropriate?
In the words of Alan Regin, Steward of the CCCBR Rolls of Honour:
"If it were me I think I would have been moved that I had been remembered, I often think when visiting a grave in a cemetery in rural France that I might well be the first person to visit that specific grave and that I am there as another bell ringer visiting one that went before me. Personally I think that if there was a possibility of recruiting another person to follow in my footsteps because of what I did or what happened to me then I would be not be upset by that."
The Challenge
Following the media notice on November 11 2017, and armed with a prototype email address and webform, we have received around 80 "learn to ring" enquiries. Each of these enquiries has been acknowledged, and we are "matching" them to suitable towers / trainers. However, 80 recruits doesn't get us very close to our target, and so we are mobilising resources on a number of fronts.
The Big Ideas team, which specialises in community participation projects, is our campaign partner for the "Ringing Remembers" project. Their design team is working up a brand and image suite, of which this "sneak peak" draft poster is an example. This suite will be used in further public relations efforts, and will also be available for use by individual towers and guilds to assist local recruitment.
Current plans for further publicity include a "New Year: New Hobby" message, and publicity to align with the centenary of the Spring Offensive of 1918.
Resources
It's clear that a project of this scale requires appropriate resourcing, and it's our desire to support local, national and international recruiting efforts as much as we can, thus:
The campaign directs enquiries to a single point of contact. This is already in place (details below);
We have a central database already set up. This helps us track all enquiries, helps us to align learners with appropriate towers / teachers, and provides a data "dashboard" for the project;
By end of January we intend to launch a "recruitment platform", which will bring together the central database with a simple website using the branding suite;
By the end of January: Leaflets and posters available to support local recruitment – designed for church porches, village notice boards, school and community leafletting and the like;
By the end of January: Editorial and graphics available to assist in generating content for local media;
For Armistice 2018: Certificates and badges will be available for all "Ringing Remembers" learners.
CCCBR and ART are on hand to support "on boarding" of Ringing Remembers recruits. This will include support for regional events (eg ringing schools), and support for the development of more ringing teachers.
We've assembled a dedicated team of ringers to work on "Ringing Remembers". Vicki Chapman has accepted the role as Project Coordinator. Vicki is a CCCBR rep for the Essex Association, and currently serves on the Public Relations Committee. Vicki is ably supported by leading lights in PR, Education, ICT and ART – all with skills and experience appropriate to the project.
Next steps
What YOU can do:
Sign up your learners! – Every learner throughout this campaign year is entitled to join "Ringing Remembers" – Ask them to enter their details here:
Advertise this call as widely as possible! – church porches, village notice boards, schools, scouts, guides, D of E, U3A , parish magazines, local media / press, etc.
In conclusion
This project gives us the opportunity to raise the profile of ringing and develop a relationship with government and community networks to provide new bell ringers. Ringing Remembers is a poignant and significant programme which appropriately acknowledges the sacrifices made by so many, aspiring to a living legacy for ringing. We commend it to you.
Christopher O'Mahony


President's Christmas message 2017
Posted: 21 Dec 2017 05:00 PM PST
"…Nor all the steeple-shaking bells can with this single truth compare… " (with thanks to Sir John Betjeman)
Like so many of us, my ringing schedule throughout Advent and Christmas is full and festive.  Advent carols, Christingle services, midnight vigils and the like, added to the usual Sunday morning commitments, makes for a busy ringing diary.  Recent snowfalls, combined with holiday plans, can present challenges for attendance, but I'm happy to say that a dedicated core at our local tower, augmented by welcome visitors, means we make a joyful sound for every occasion that we're needed.
As George Pipe fondly notes, bells and bellringers are the "external choir", calling out to acknowledge the central place that our churches and towers hold for our communities.  At Christmas time this is especially true, exemplifying that ringers are uniquely "linked in" to life events around us, both sacred and secular.
I take this opportunity to give tribute to all ringers, willing volunteers, who give your time and skill selflessly week on week throughout the year.  Thank you!
Further – my thanks to all those involved in the work of Central Council – Officers, Committee members and Committee Chairs, Stewards and association representatives.  It's been a busy year, and I'm grateful for all the work you do to support ringing.
Not all of our towers are able to ring for Christmas, sadly, and this is a situation that's the subject of much debate and activity.  Bellringing has been described as an essential part of the "soundscape of the nation" (not forgetting our international ringing fraternity!)  Let's not succumb to the sound of silence.  All of us, whether in our local towers, branch, guild and the Central Council, have a vested interest in preserving and augmenting our wonderful exercise.  What are we all doing about it?  Plenty!  Can we all do more?  Absolutely!
At the risk of repetition, I share my "New Year's Resolutions" for 2018, which I hope we can all embrace:
To recruit and develop new learners and new leaders
To engage maturely with the Church and other relevant stakeholders
To continue to raise positive public awareness of ringing
As we reflect on the events, challenges and successes of the passing year, may all of us celebrate the wonder of the Christmas message, ringing out with joy to the world, looking forward with hope and optimism to the year ahead.
Christopher O'Mahony
President, The Central Council of Church Bell Ringers
(PS – don't mention the cricket!)
Posted: 20 Dec 2017 11:43 AM PST
Ringing World National Youth Contest
Posted: 03 Dec 2017 11:14 AM PST
The eighth Ringing World National Youth Contest for the Whitechapel Trophy will take place on Saturday, 7th July 2018 in London, hosted by the Southwark Cathedral Society of Bellringers.
Heats will be held in the morning, on easy going rings of 8 in central London or easily accessible by public transport. The top 2 teams from each heat will go through to the final on the Royal Jubilee Bells at St James Garlickhythe in the afternoon. The competition is open to bands comprising ringers aged under 19 on 31st August 2018. Bands may choose to ring Major, Triples or Call Changes on eight bells.
The contest rules and safeguarding guidelines are available on the contest website.
In addition to the contest, there will be the opportunity to ring at other towers in London, handbell ringing workshops and other activities! Details of the day will be published in due course.
For logistical reasons, entry is limited to 24 teams and therefore only one entry per group can be accepted (with "group" defined as young ringers from the same area who practice together). If we do receive an entry in excess of 24 teams, the previous year's winners of the method ringing and call change categories will receive automatic entry, and the remaining teams will be drawn out of a hat. Any team not given a place this year will be given automatic entry the following year.
The closing date for entries and receipt of the entry fee of £50 per team, is 12 noon on Friday 9 February 2018. If you would like to enter a team in the contest please send an e-mail to rwnyc@ringingworld.co.uk as soon as possible to request an entry form. For any further information do please contact us or have a look at the website!
We look forward seeing you in London on 7 July!
Linda Garton
RWNYC Organiser
You are subscribed to email updates from Ringing news.
To stop receiving these emails, you may unsubscribe now.
Email delivery powered by Google
Google, 1600 Amphitheatre Parkway, Mountain View, CA 94043, United States