| | |
| --- | --- |
| Church to use virtual silent bells to avoid disturbance | |
---
| | |
| --- | --- |
| 'Guitar hero for bellringers': Virtual bells at Victorian church will ring the changes | |
---
| | |
| --- | --- |
| War of words after bell tower bid given green light | |
---
| | |
| --- | --- |
| Church to use virtual silent bells to avoid disturbance | |
---
| | |
| --- | --- |
| German town to keep Nazi church bell | |
---
| | |
| --- | --- |
| 'Guitar hero for bellringers': Virtual bells at Victorian church will ring the changes | |
---
| | |
| --- | --- |
| German village votes to keep bell inscribed with 'Everything for the Fatherland, Adolf Hitler' | |
---
| | |
| --- | --- |
| Thousand-year-old German church's 'Hitler bell' will remain in place | |
---
| | |
| --- | --- |
| Not ringing the changes: German village to keep 'Hitler bell' | |
---
| | |
| --- | --- |
| 'Guitar hero for bellringers': Virtual bells at Victorian church will ring the changes | |
---
| | |
| --- | --- |
| 'Guitar hero for bellringers': Virtual bells at Victorian church will ring the changes | |
---
| | |
| --- | --- |
| 'Guitar hero for bellringers': Virtual bells at Victorian church will ring the changes | |
---
| | |
| --- | --- |
| RWNYC 2018 | |
The eighth Ringing World National Youth Contest will take place on Saturday, 7th July 2018 in London, hosted by the Southwark Cathedral Society of Bellringers, where 22 teams will be competing for the Whitechapel Trophy.
We're particularly pleased to welcome the Brumdingers, Bucks and Berks Young Ringers and Go Bellistic!, all of whom are entering the contest for the first time.
There will be three qualifying heats in the morning and the top 2 teams from each heat will go through to the final at St James Garlickhythe in the afternoon. In addition to the contest, there will be the opportunity for competitors to ring at other towers in London, handbell ringing workshops and other activities! Details of the day will be published in due course.
The following 22 teams will be competing:
Bath & Wells
Bedfordshire Young Ringers
Brumdingers
Bucks and Berks Young Ringers
Coventry Spires
Derbyshire Young Ringers
Essex Young Eagles
Fen Tigers
Guildford DG Young Ringers
Go Bellistic! (Salisbury DG)
Kent Young Ringers
Leicester Rising Ringers
Lincolnshire Gamekeepers
Lincolnshire Poachers
Oxford DG
Surrey Young Ringers
Sussex Young Ringers
The G&B
W&P Youths
Worcester Cathedral
Yorkshire Tykes
Young @ Herts
via Ringing news http://ift.tt/2EZFVqN
February 28, 2018 at 09:05PM
via RSS Feed http://bb.ringingworld.co.uk/news-story.php?id=1287
---
| | |
| --- | --- |
| Hurstpierpoint Young Ringers featured in magazine | |
The Young Ringers of Sussex have received a publicity boost thanks to the March edition of Hurst Magazine.
The article in Hurst Life, the community magazine for the village of Hurstpierpoint, features the 10 strong of band of Young Ringers that frequent the bells of Hurstpierpoint. It's jointly written by one of their band's active members, Josh Hutchinson.
It's an excellent portrayal of the wide variety of activities involved in ringing; from the National Youth Contest, quarter peals, to the weekly practice night's 'cake break!'
Well done Josh and Hurspierpoint band!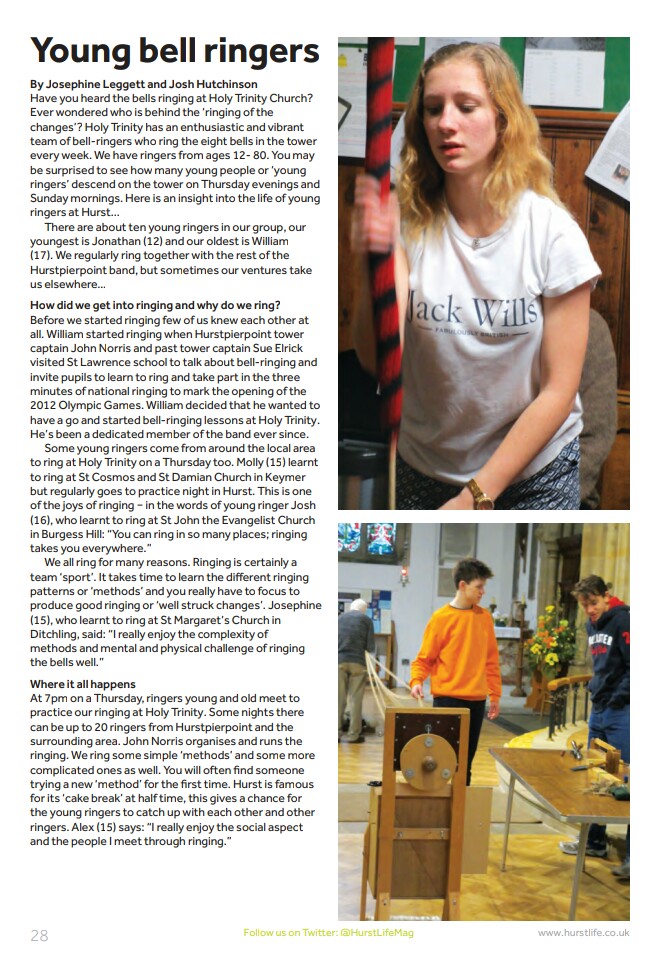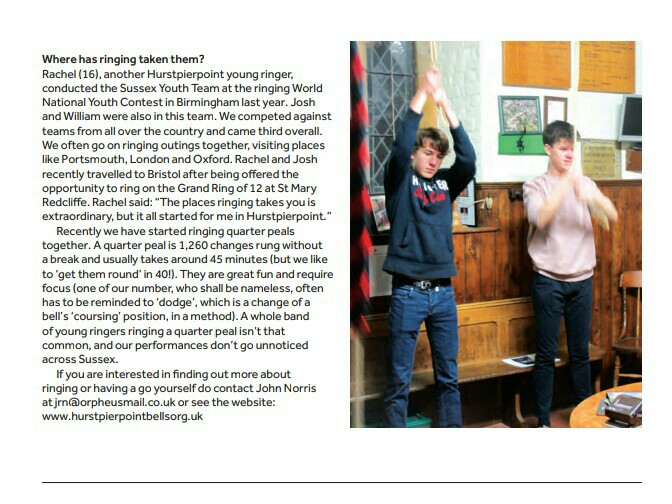 via Ringing news http://ift.tt/2CQ1UKT
February 28, 2018 at 10:45PM
via RSS Feed https://cccbr.org.uk/2018/02/28/hurstpierpoint-young-ringers-featured-in-magazine/
| | | |
| --- | --- | --- |
| | Merseybells daily news digest | |